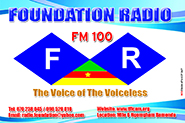 September 18, 2017
In this edition of News Extra
CAMEROON: The other side of the Anglophone crisis: Hypocrites, sycophants, statesmen and a President who took the right decisions at the wrong time deceived and betrayed by his confidants.
---
Every Tuesday 6:00 - 7:00 AM and Fridays 3:30 - 4:30 PM with Ranibelle Sato and her team of Foundation Ladies!
A must listen!
Anybody can be in an undesirable condition at a certain moment.